Engineered Walnut wood flooring
Showing all 1 result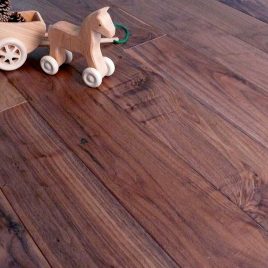 Engineered Walnut
Engineered Walnut wood flooring from sustainable forests lacquered or uv oil finished.
Product held in the Uk & Europe American Black Walnut
Please see the specification tab below to see our full range of Engineered Walnut
Walnut Herringbone blocks are priced on our herringbone page
Walnut is one of the softer flooring materials and can dent more easily than other hardwoods also walnut can fade in sunny areas. Having said that nothing can quite look the same a Walnut flooring.
Walnut Floor Durability
It's no secret that walnut lends a touch of class to any room. But as one of the softer example of hardwood flooring available, some homeowners believe that solid walnut is not as durable as hard woods, such as oak. That's where our specially designed walnut engineered wood flooring comes in. Specifically constructed for unbeatable strength and stability. Also engineered walnut wood flooring is perfectly suited for all areas. Especially high moisture and humidity. Furthermore proving resistant to the warping and shrinkages that 100% real wood floors are prone to. Our expertly curated solid walnut veneer makes a fantastic addition to this state of the art wood flooring solution. Consequently engineered walnut wood flooring has drastically increased in popularity over recent years. Ultimately delivering impeccable style and utility to many homes across the UK.
Read more