How To Look After Heritage Wood Floors
Most people choose to install heritage wood floors, as they look stylish and last longer than carpets or laminate flooring. Another benefit of installing heritage wood floors is that they are easy to maintain and do not take much effort to clean on a regular basis.
If you have already invested in high-quality heritage wood flooring, take a look at our advice on how to look after it and keep it looking like new.
Daily Cleaning
A simple sweep using a soft brush will help you keep day to day dust at bay, and this will take no more time than it would to vacuum a carpet every day. If you spill liquid onto your floor, make sure you wipe it up straight away using paper towels to gently soak up the spillage. If you are worried about your furniture making marks on your floor, you can buy pads for the legs of chairs and wheels on sofas.
Weekly Cleaning
On a weekly basis, you should use the bare floor setting on your vacuum, making sure that you reach the corners of the room and behind any furniture. To help prevent serious damage to your heritage wood flooring you should avoid walking on it in high heels or sports shoes that can scratch the surface of the wood.
Monthly Cleaning
Use a floor cleaner that is recommended for your type of wood and always follow the instructions on the bottle. It is important not to use tile cleaning products or solutions for vinyl flooring, as this will ruin the wood over time. You should also take care not to use acrylic wax based products as these will make the floor too slippy.
If you find that you have over-waxed your floor, you should buff it to give it back some shine. Wet mopping your floor will leave smears and will give your floor an overall dull look. Instead, you should invest in a special spray-buff system or a good quality mop.
Every 4-5 years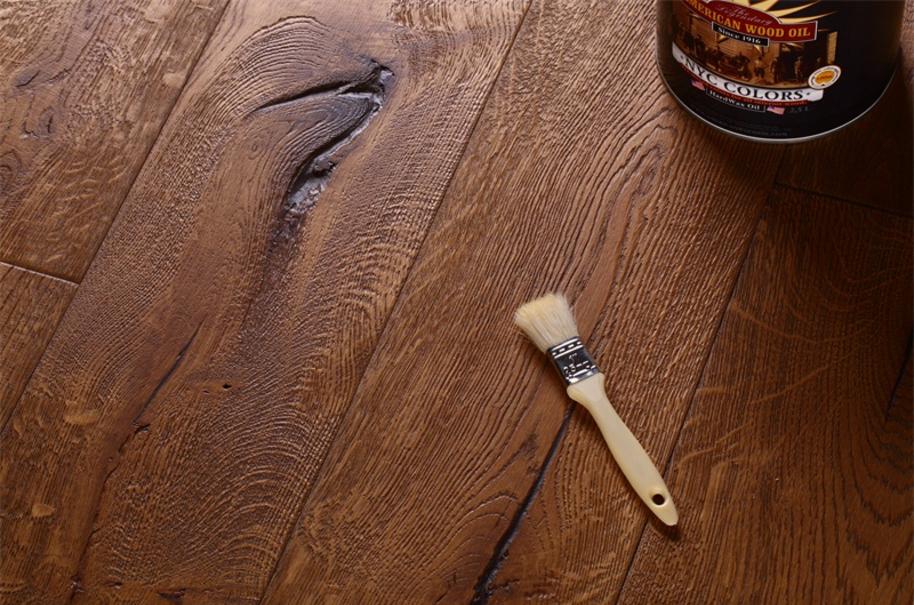 A maintenance coat should be applied using a mop that is not too wet. The maintenance coat will fill in any scratches and will give back the original lustre the floor had when it was installed.
Every Couple of Decades
Yes, high-quality heritage wood flooring really will last for decades. That said, it will begin to look a little tired after a few years so a full sand and polish will have it looking like new in no time.
If you have a wooden floor that covers a large area or your children regularly play with their toys on the floor. You may want to look at buying a rug. The rug will protect the floor from any damage, but don't forget to clean underneath it when you are carrying out your regular cleaning tasks as per above instructions.
For the best in trade price heritage wood floors, contact the Wholesale Wood Flooring team today to get a great deal.